DFFRNT'S Workflow Solution Drives Electric Vehicle Procurement 
DFFRNT took one government agency from "How do we help fleet managers go green?" to a finished decision support tool in only a matter of months. The project encompassed stakeholder interviews, primary research, workflow design, wireframes and service design.
The client
The federal government's Office of Energy Efficiency falls under the umbrella of Natural Resources Canada. OEE's mandate is to provide policy analysis and advice on energy efficiency, alternative energy and transportation fuels. In addition, it manages energy efficiency and alternative fuels programs aimed at the residential, commercial, industrial and transportation sectors.
The challenge
The federal government established program targets related to the adoption and use of zero-emission vehicles (ZEV) in fleet programs. However, because of the need for a charging network, the procurement process for these vehicles is more complicated than for traditional vehicles and often involves physical infrastructure changes.
The Advanced Vehicles Program team sought DFFRNT's research and design services to develop a ZEV procurement checklist that would assist fleet managers in the federal public service.
"We have the training and expertise to turn stakeholder interviews into an actionable plan. Conceptualizing and designing a workflow for implementing a new technology across multiple government agencies is not an easy task. We were able to go from "How do I help fleet managers accomplish this?" to a finished decision support tool in only a matter of months."

Shaun Illingworth
DFFRNT
The solution
DFFRNT performed primary research to explore the needs and requirements of fleet managers looking to procure electric vehicle (EV) charging stations. Stakeholder interviews helped to determine requirements and dependencies and identify gaps in the current process.
We mapped the various requirements and data inputs into a single workflow. We conceptualized the procurement process and then evaluated the solution based on feedback from stakeholders and key users.
The workflow was then transformed into a decision support system for fleet managers across various federal government departments. This is the essence of service design, managing an organization's resources to improve the employee's experience.
The outcome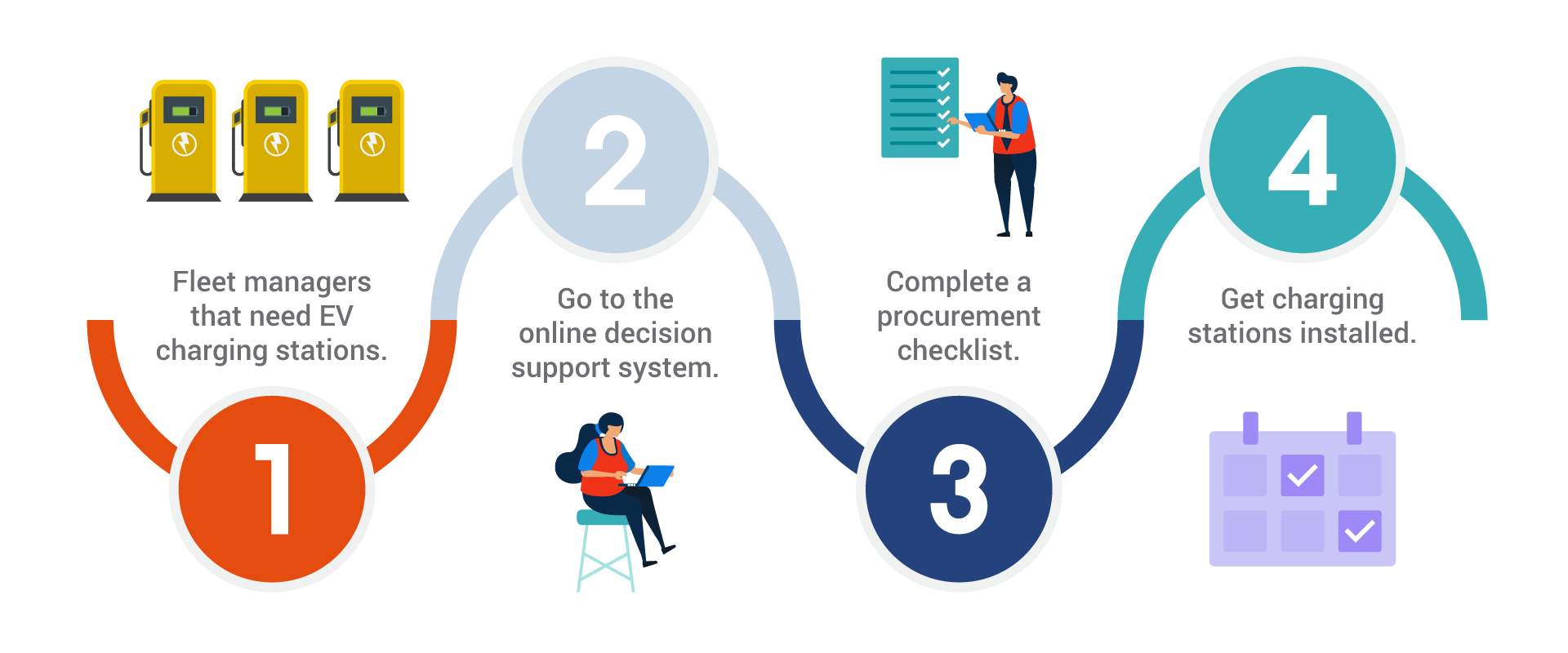 The concept of a procurement checklist evolved into a workflow document with a series of questions and process variations. Data obtained in the primary research phase was used to outline the tasks required for a fleet transition.
After review and iteration, the workflow document framework became an online procurement preparedness guide. This decision support system leads people through a series of questions and the relevant process flow to ensure they are not missing any details that would later impact the procurement.
An online guide was the optimal format because the procurement of electric vehicle supply equipment is highly context-dependent: Does the agency own the building? Can it support the electrical needs of the chargers? What kind of chargers would be most suitable?
The results
Fleet managers can be more at ease about the procurement process, having received the appropriate tools and information. If fleet managers follow the decision support tool, the right people should have been consulted and engaged, the pertinent questions asked, and costly mistakes avoided.

No more "I wish I had known this before" or "I didn't know this voltage wasn't enough."
Service design
Primary research
Process knowledge
Stakeholder interviews