Personas help public service agency refine services, communications
"Who is your customer?" is one of the fundamental questions for any business. Recognizing there were gaps in its knowledge of its users, one public sector agency turned to experts in behaviour and user experience to define the personas that would guide its decisions.
The client
The Canada Revenue Agency collects taxes, administers tax law and delivers benefit programs for the federal government and many provincial and territorial governments as well. It is one of the largest organizations in the federal government. Given that its activities touch the lives of most Canadian adults, CRA interacts with millions of users. Done correctly, personas are one of the most powerful business tools an organization can have at its disposal.
The challenge
To better understand its users, CRA was seeking a complete, well-researched set of personas and usage scenarios, developed by experts in research and behaviour. Within CRA's many branches, different groups had created some personas, but these varied in quality and validity. The goal was to create a set of personas applicable across the entire organization.
The personas could then be used for improving communications, service design enhancements, and tailoring products and services to meet user needs.
It is a complex task to create a set of research-based, validated personas; it requires deep expertise in understanding human behaviour.


"Everyone who interacts with a customer or user has a point of view. Being from outside the organization, we are not clouded by internal politics or KPIs. We can take a step back and dispassionately look the real factors that separate one type of user from another."

Dominira Saul
DFFRNT

The solution
DFFRNT's founders Dominira Saul and Shaun Illingworth were part of the team engaged to research and develop a new set of personas for CRA.
A persona is a fictional character that represents a unique group of people who share common goals and needs with respect to the use of the product/service. They are not an "average" user or customer, nor do they represent market segments.
Personas are specific characters with names, personalities, faces, personal backgrounds, and usage goals. User persona characteristics can encompass people in widely different demographic groups who have similar goals and values. Usage scenarios, most commonly associated with personas, describe a specific, singular task and how the persona achieves the goal.
In-house knowledge of client needs and characteristics is quite often dispersed among people in an organization.
The steps to develop validated personas generally include:
Scoping: working with the client to narrow the focus from "all businesses" or "all Canadians" to those who access the company's services.
Discovery: scouring existing information within the company to develop an internal view of the customers and users.
Immersion: engage with departments beyond the project teams to build a rich company-wide understanding of the audience, to identify patterns and to formulate hypotheses
Primary qualitative research: understanding first-hand the "who, what, when, where, why and how" of actual users, plus behavioural analysis to group customers and users based on actions and tasks.
Quantitative research: larger sample investigation of behaviours drawn from qualitative research. Statistical analysis to identify unique factors and clusters of behaviours and attitudes. 
Visual design: creating the appropriate artifacts and communications to promote adoption and use within the company.
Communication: developing use cases, processes and templates for the company to leverage personas for impact.
Refinement: creating a behavioural research process for deeper and continuous improvement in your knowledge.
For CRA, Saul and Illingworth viewed what various groups within CRA had already created and interviewed people in client-facing roles. They supplemented that material with their own primary research to create a set of personas.
For this type of project, a deep knowledge of human behaviour and psychology come into play, in terms of experimental design and asking the right questions. User experience professionals are able to design observational studies that allow them to get at the root of behaviors, motivations and goals.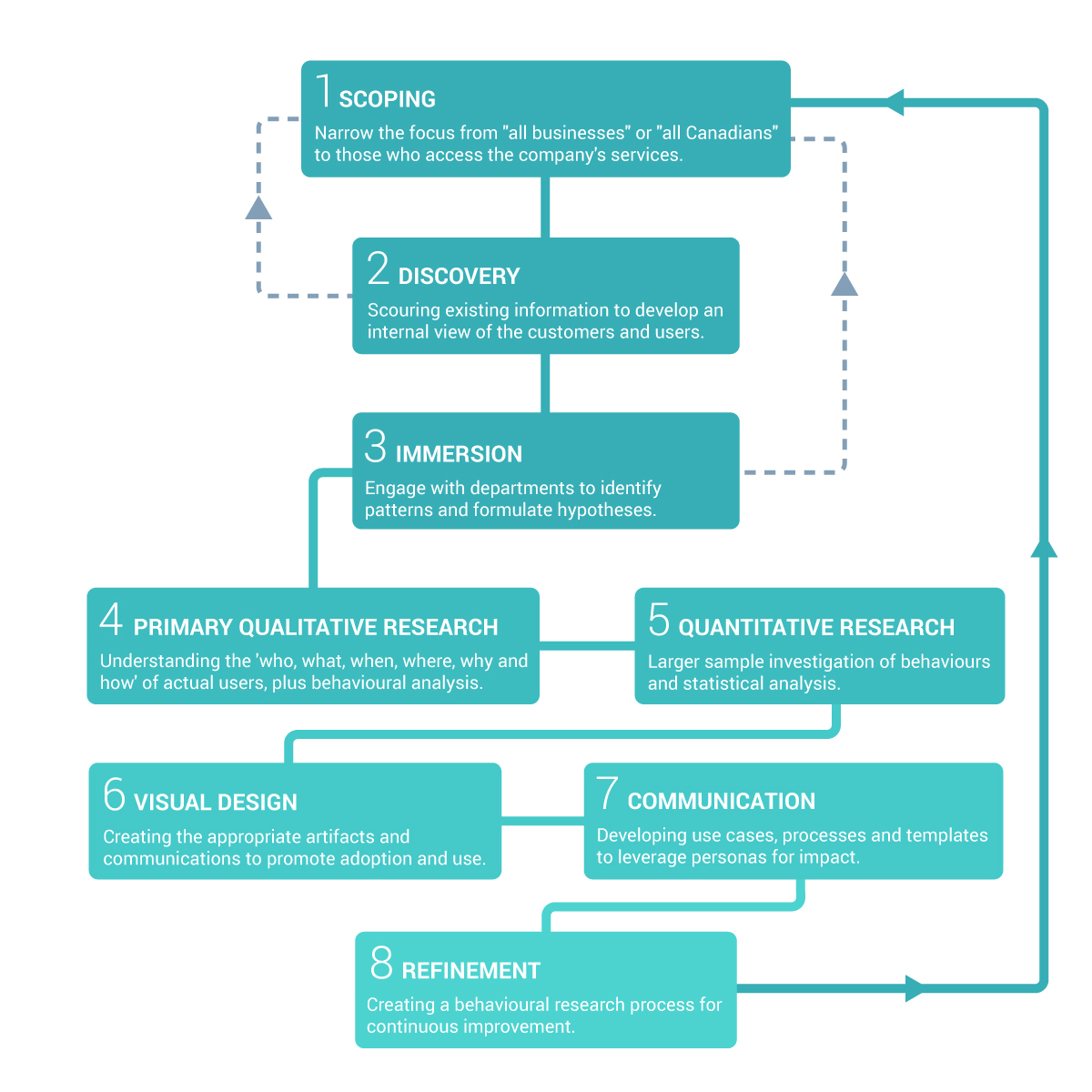 The outcome
These research-based personas give CRA staff better knowledge of the different types of clients they serve. They can go beyond demographics and segment clients based on psychographics. They can leverage that knowledge to adjust policies, outreach, and programs. Their understanding of their client base now includes goals, motivation, and behaviour.
Behavior and motivation are especially important in the context of compliance. For private or public sector organizations involved with regulatory compliance, a deeper understanding of behavior and motivation is particularly valuable.
The results
It is impossible to argue that knowing how, when, where and why your customers and users interact with your company is not valuable. Contact DFFRNT to learn more about personas and user behaviour insights.
Behavioral insights
Customer experience
User research