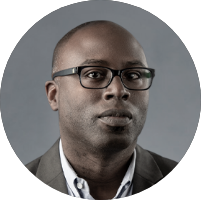 Dominira Saul has over 20 years' experience in user and customer experience design. Dom earned a BA in Psychology, studying with the founders of Carleton University's famed Human Oriented Technology (H.O.T.) Lab. He earned a Master of Science degree in User Interface Design at London Guildhall University.
Dominira's professional career began in London at the height of the dot com bubble as a co-founder of usabilityagency.com.
Dominira returned to Canada and in 2003 joined Maskery & Associates. What followed was a collaboration with some of the most skilled UX and HCI practitioners in the country. In 2006 Maskery was acquired by Macadamian Technologies and after almost three years with Macadamian, Dominira decided to return to pure UX consulting as the Chief Experience Architect at Akendi.
Dominira is a passionate educator, who taught Product Design Methodology for 4 years at Carleton University in the School of Information Technology. He also held a lecturing position at London Guildhall University in the school of Information, Computer Systems and Mathematics, teaching user interface design as well as networks & telecommunications. He has created, managed and taught many professional development courses and remains connected to academia with roles in UX programs at Carleton University, Algonquin College and the University of Ottawa.
On a personal level, Dominira believes in the transformative power of entrepreneurism and in the broad applicability of design methods to solving everyday problems.
Having seen first-hand how small businesses can be the backbone of major economies, he has a sincere desire to apply the lessons that he has learned as an entrepreneur and design thinker to the improvement of economies in the developing world and beyond.  He volunteers time and expertise with various projects.